Via
Capitol Annex
we learn of
Shaquanda Cotton
, a 14-year-old girl that was sentenced for up to seven years in the Texas Youth Commission for pushing a hall monitor at her high school in Paris, Texas.
The
Chicago Tribune
broke this story nationally March 12, comparing Cotton's sentence to that of a white teenager that committed an arguably more heinous act:
Just three months earlier, [

Lamar County Judge Chuck]

Superville sentenced a 14-year-old white girl, convicted of arson for burning down her family's house, to probation.

"All Shaquanda did was grab somebody and she will be in jail for 5 or 6 years?" said Gary Bledsoe, an Austin attorney who is president of the state NAACP branch. "It's like they are sending a signal to black folks in Paris that you stay in your place in this community, in the shadows, intimidated."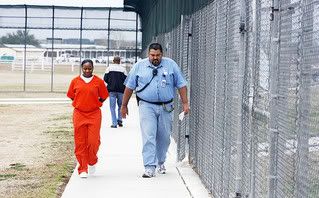 Photo credit: Chicago Tribune
Vince at Capitol Annex suggests that this story has been underreported by the Texas media. NTL searched the websites of the
Dallas Morning News
and the
Fort Worth Star-Telegram
for Cotton's name and found no results.