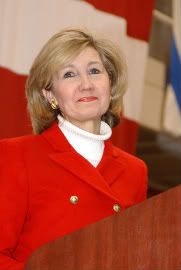 It's been rumored for a while now that Sen. Kay Bailey
Hutchison would leave her job
at the U.S. Senate in order to run for governor of Texas in 2010.
Apparently, the rumors are true. According to
Paul Burka
, Hutchison has been meeting with the Texas Republican congressional delegation seeking their private endorsements as she gears up for the gubernatorial campaign.
The R's aren't thrilled about being in the middle of a potential Hutchison-Perry primary showdown. They would have sided with Perry in 2006, but he has done too many controversial things that he can't undo: the Trans-Texas Corridor, the coal plants, the HPV controversy, his hostility to the education community, both public and higher.
And Capitol Annex has some interesting news, as well. Karl Rove is reportedly going to hold a Texas fundraiser for Hutchison's bid. We have a feeling that 2010 is going to be an interesting year for Texas Republicans.