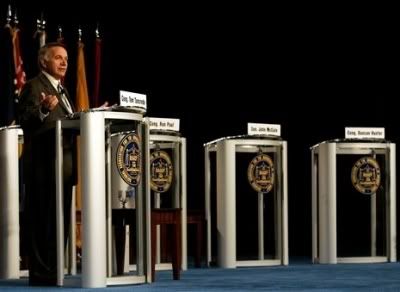 According to the
USA Today

blog
, only one Republican candidate for the presidential nomination showed up to the annual NAACP Convention in Detroit. Ten candidates were invited, but either didn't respond to the invitation or cited scheduling conflicts.
The audience gave Rep. Tom Tancredo a standing ovation as he stood amid nine empty lecterns on stage. "Do you think we should wait a few minutes to see if these other guys show up?" he asked.
Rudy Giuliani was fundraising in Michigan, anyway, but still couldn't be bothered to appear at the convention of more than 8,000 NAACP members.
On the other hand, all eight of the Democratic candidates that were invited showed up to discuss the issues at hand.
Sen. Barack Obama
reportedly drew the most applause.
All the Democratic candidates were warmly received, but Illinois Sen. Barack Obama, an African-American appearing before an African-American crowd in the nation's most African-American city, drew by far the loudest applause.

Obama said that while government cannot guarantee success, it is "a betrayal of our ideals" for people to be held back from opportunity because of their skin color or their economic class.

"If you're poor in this country, that's hazardous to your health," Obama said. "If you're poor and a minority that's downright lethal."