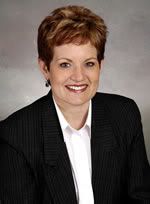 Jody Smith is the incumbent Mayor of Flower Mound, Texas. Before that, she served on the Parks Board from 1991-1994 and the Flower Mound Planning and Zoning Comission. Since taking office in 2004, she has created a structural reorganization. "Projects were being completed by using reserve funds. We have a charter that says we have to legally stay at greater than 10 percent of our budget set aside as reserve. Our constituents feel that 10 percent is not enough. Numbers like 15 and 20 have been tossed around. But with items like 9/11 happening, and Katrina and Rita, we feel much more comfortable to have our reserves up to about 20 percent."
Mayor Smith's next concern is beautifying and modernizing the town. She wants to oversee the addition of new landscaping along Morriss Road, as well as flowers and land markers at the entrances to the town. She has pointed out that economic developers are now attracted to the area and will oversee the development responsibly. For example, Flower Mound is now anticipating the addition of a four-star hotel on Lake Grapevine as well as lakeside business and retail. Flower Mound can also expect a new JCPenney department store along the bustling end of FM 2499, near Target and Lowe's.
Mayor Smith is also a strong transportation advocate, citing her plan to provide nature trails that link schools, homes, and businesses. She notes that the new stretch of Flower Mound Road (FM 3040) was completed while she was in office. She will make certain that the planned extensions of FM 1171 and FM 2499 are completed with respect to Flower Mound neighborhoods.
Jim Lang, the former Director of Economic Development, is opposing Mayor Smith in the May 13 non-partisan election. Lang has proposed a new sales tax, which Mayor Smith thinks would be opposed by the town's constituents. As a real estate developer, Lang attempted to install an apartment complex in Flower Mound, but he admits that his plan failed. He believes that his becoming Mayor of Flower Mound is "God's plan" for his life.
Under Smith, Flower Mound has "
cut costs, legal fees, and parts of the government that haven't worked, while continuing to finish park, infrastructure and road projects." She also plans to continue her fight against Lake Ralph Hall to secure fair water rates for Flower Mound citizens.

Early voting will continue through May 9. Election day is May 13. (For more information on the election, visit a local blog: Flower Mound Road.) Secure a strong Flower Mound by voting for incumbent Mayor Jody Smith. She provides the best path for the town of Flower Mound, as proven by her record of conservative spending while getting things done.