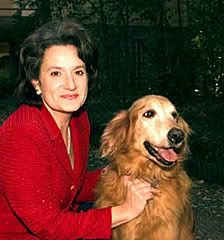 First and foremost, congratulations are due to the newly-anointed Democratic candidate for U.S. Senate
Barbara Ann Radnofsky
.
The Dallas Morning News
and the Associated Press are calling the U.S. Senate runoff in her favor. About 60% of voters cast their ballots for Barbara Ann; 100% of precincts have reported their votes and there has been an average turnout in the Democratic runoff of 1.63%, higher than the March 7 primary.
Gene Kelly, Radnofsky's failed opponent, ran for United States Senate in 2000 after emerging victorious over Charles Gandy in a similar runoff election. He was stomped in the general election by incumbent Republican Senator Kay Bailey Hutchison.
Radnofsky overcame an election day obstacle when it was discovered that her name was left off of the ballot in Maverick County. Volunteers began writing her name on the ballot to benefit voters by giving them a full ballot to vote with, but this does not account for those that voted early and only had one candidate for the picking: Gene Kelly. Kelly received 70% of the vote in Maverick County back in 2000, but he barely edged out Radnofsky by a fraction of a percent in the March primary. The Maverick County Democratic Party obviously made an egregious error when validating the ballots. The Secretary of State Roger Williams (recently accused of an inability to conduct non-partisan elections by none other than gubernatorial hopeful Carole Keeton Strayhorn) is dragging his feet on this issue, but Radnofsky handily won the runoff despite these setbacks.
Barbara Ann will face Senator Hutchison on November 7, 2006, for her coveted seat in the United States Senate. You can learn more about her campaign by visiting her
website
and reading her
article on Wikipedia
.
For comprehensive election results and analysis of other runoff races, visit
Burnt Orange Report
. The good folks at BOR are keeping the blogosphere aware of the returns as they are made available.