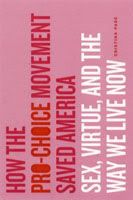 The Flower Mound Democrats Book Club will hold their March meeting tomorrow night at Jill's house. They will meet for dinner and afterwards will discuss
How the Pro-Choice Movement Saved America: Freedom, Politics and the War on Sex
by Cristina Page. If you have read this book or plan on reading it, please attend for an informed discussion on abortion rights and the secret anti-contraception agenda of the pro-life movement. The book suggests that the pro-choice movement saved America because pro-choice activists have done more to lower abortion numbers through sex education, planned pregnancy, and birth control.
Check the
Flower Mound Democrats Yahoo! Group
or email Jill at jillm@mac.com for details on the March 31 meeting.