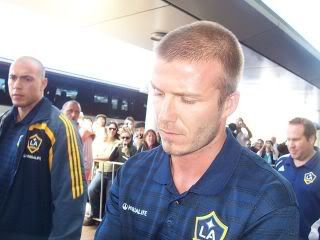 According to Carbon Trust, a UK-based environmental group, international soccer star David Beckham has accumulated "
the largest carbon footprint in human history
."
Apparently, Beckham traveled over 250,000 miles by plane last year alone. He also owns 15 cars, including SUVs and sports cars, and maintains several residences around the world. The group claims that Beckham is "responsible for 18 times more tons of carbon dioxide than the average person."
Beckham
reportedly
produced 163 tons of carbon dioxide, while the average Brit produced a mere 9.4 tons.
"He should use his celebrity status to make people aware of the damage that traveling can cause to the planet," a Carbon Trust spokesman told the Daily Star. "With all his money he should be using it at least to reduce his own footprint. He has more freedom of choice when it comes to methods of traveling. He could also choose greener cars."
Beckham, who has played professionally for England and Real Madrid, recently moved with his family to the U.S. to play midfield for L.A. Galaxy.