If John McLeod is elected to the Texas Legislature this fall, he will be among the youngest politicians in the statehouse. But don't let his age fool you. McLeod's interest in politics goes back to childhood, and he has volunteered on a variety of campaigns. These early experiences naturally led him to study government while at the University of Texas at Austin.
McLeod is running in the 64th District, which includes most of the city of Denton, Lake Dallas, Corinth, and The Colony. The seat is currently held by Republican Myra Crownover.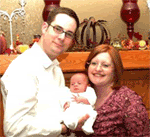 A fellow candidate describes him as "a true gentleman, in the old-fashioned sense of the word." Talk to John, and on everything from his political priorities to even the way he criticizes his opponent reflects a certain decency. Of his opponent, Myra Crownover, he says, "Give her credit. She took over her seat under difficult circumstances, after the death of her husband. But her heart isn't in it, and it shows." In fact, the latest reports show McLeod's fundraising efforts outraising Crownover by a two-to-one margin.
John's wife, Carabeth, is a middle school teacher, and education reform is among his highest priorities. Despite the money and energy spent in recent special sessions, he doesn't feel Texas has solved its educational crisis. Asked specifically what needs to be done, he states that funding is still an issue, and that we are still not allocating enough dollars to education to provide a first rate system. "Texas needs to adequately fund education, not just pretend to. I'm sick and tired of being first in all the wrong measures, and fiftieth in everything that counts." A good education shouldn't be "reserved for someone whose parents are crafty enough to figure out how to send them to private school." Among his educational priorities, he sees a need to radically improve technology, upgrade textbooks, and increase teacher salaries to keep our school systems competitive.
Asked about the funding crisis for Texas parks, he replies, "This is an issue that resonates with everyone whenever it comes up. There is widespread support for increased funding." He supports legislation to raise the cap on the amount of money directed to parks from the sporting goods tax.
Discussing one of his reasons for running for public office, he talks about the need for comprehensive campaign finance reform to stop lobbyists from picking the pocket of Texas tax payers. "We've created a system of government that is 'pay to play'." McLeod doesn't feel public service should be about making money for himself or lobbyists. One of his heroes is Henry B. Gonzalez, the first Hispanic representative to Congress from Texas. "Henry left office poorer than he came in. That's public service."
www.mcleodfortexas.com