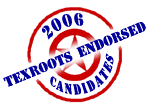 The Texas Progressive Alliance, a bloggers' caucus that NTL is proud to be a member of, has begun fundraising for Texas candidates through the
TexRoots ActBlue
page. TexRoots is a Texas-based version of the NetRoots campaign sponosred by
DailyKos
.
TexRoots is an effort by Texas bloggers to promote blogger-endorsed candidates. The Alliance has already raised $5000 just to activate ActBlue in Texas. ActBlue is a critical campaign tool for Democrats hoping to be elected across the state. We are excited about this launch and eager to prove what a real and powerful fundraising tool blogs can be.
Our first endorsed candidates are Shane Sklar, candidate for U.S. House in the 16th District; Juan Garcia, candidate for Texas House in the 32nd District; and Hank Gilbert, statewide candidate for Commissioner of Agriculture. After the Alliance has raised $3000 for these candidates, we will move on to another set of candidates and continue this process until election day. To donate and help reach the goal,
please click here
. To donate at a later date, please note the image on the sidebar to the right. If you click that image, it will take you to the donation page at ActBlue.
For more information about the TexRoots campaign, please contact
texroots@gmail.com
.